I have heard that Bahamas Restaurants can be a bit of a hit or miss. If the food is not good the service has been known to very spotty.
And sometimes that can be hard to take when the 15% gratuity is already calculated into your bill.

But I can confidently say that on my visit to the island of Freeport the restaurants I encountered were top notch along with the staff.
There is a mouth-watering variety of food choices to eat from fresh local seafood to flavours from around the world.
So there is something for everyone. While the choice was difficult here are 3 of my favorites.
 Located in the Port Lucaya Marketplace Cappuccino's Italian Restaurant is a small quaint restaurant with a cosy atmosphere.
There are not a lot of tables so I strongly suggest you make a reservation in advance, so you will not be disappointed.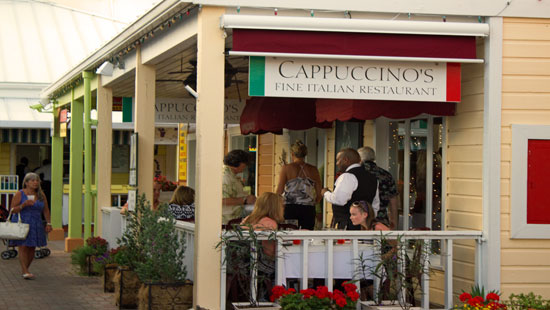 Cappuccinos in the Port Lucaya Market Place
Having eaten at some terrific spots in Italy, this restaurant does provide authentic delicious food, in my opinion.
Actually it was difficult to choose what to order, luckily we all sampled the menu so we go to taste a little of everything, from the fresh pasta in the Lasagna to the thick garlic shrimp in the linguini everyone was happy with their choices.
My Veal Marsala had the right amount of seasoning and every bite made my taste buds explode with joy, so was the review of the Chicken Parmigiana breaded just right with a great sauce. And then there was desert.
Another one of the Bahamas Restaurants when in Freeport you got to try is at the Grand Lucayan Resort is Churchill's.