The Links Course at Casa de Campo
Hi I'm Dave Eliott, of Caribbean Golf Getaways and I just wanted to say thanks for dropping by the website. Here's the thing I am always curious as to where everyone who comes to the website is from, so please leave a comment below and just say hi.
Let me know where you are from and as a bonus let me know what you think you need to be a better golf.
Tell me about some of the Caribbean island you have played or better yet what island are on your bucket list. 
Here's my story and why I created this website.
Quite simply it all started about 5 years ago when I lost both my parents to cancer 18 months apart and it shook me up quite a bit. I still miss them every day.
As part of a diversion I began golf a lot more, being out on the course took my mind off of things if only for a few hours during those stressful times. So when my dad passed after my mom I decided to take a trip to the Caribbean, Barbados his birth place.
Besides all of the other great things to do on the island I just loved to play the great courses there.
Since then I have been fortunate to play other spectacular courses on other islands and now I am compiling my own Caribbean Golf Bucket list.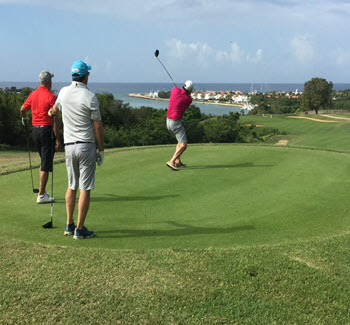 Golfing with buddies at Casa de Campo Dye Fore Course
Then in the fall of 2016 I faced another challenge, doctors told me I had due to stress and lifestyle had blocked arteries in my heart and needed to have by pass surgery before I would have a heart attack.
As you can see I pulled through that adventure and it was during my hospital stay in bed I decided to make a change in my life and to not take it for granted anymore.
In my hospital bed at night I would dream of playing golf again under the Caribbean sun and being around the people that were important to me. 
So I hope you take the time to browse around the website.
And finally say hello and introduce yourself and tell me about what you enjoy playing golf and what island have you played on and what island are your bucket list.
Thanks and try to stay in the fairways.