The Morena Resort is one of the unique places to stay in Curacao
From a little research, I found one of the most unique places to stay in Curacao was the Morena Eco Resort.
This was my first time to this Dutch Caribbean island, and like its sister island Aruba, the weather is always sunny and dry.
The island gets less than 21 inches (550 millimeters) of rain fall per year.
That is perfect for me since I never have to wonder if it will be a good time to book a tee time at Old Quarry or Blue Bay.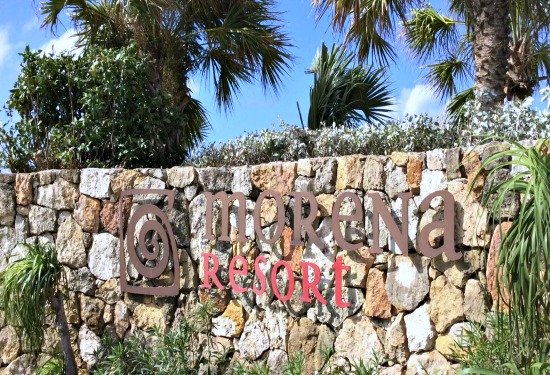 The Morena Eco Resort is located in one of the most exclusive areas of Curacao Credit: Caribbean Golf Getaways
As a couple, we stayed in one of the apartments which had a nice bedroom.
The AC is situated in the bedroom and not in the living area, since there are shutters and no glass windows.
We had a small bathroom and a practical kitchen which was well stocked with dishes, pans, a fridge, a coffee maker, and a stove top.
What we really enjoyed was the large outdoor patio with a dining table and a huge terrace.
If you are larger group you are going to love the villas as they are very spacious.
We were across the walkway from one of them and the family there continued telling us just how much they loved their space.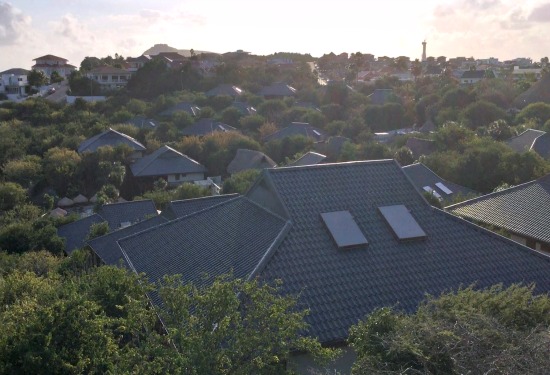 Cozy tropical set up in a quiet relaxing environment Credit:Caribbean Golf Getaways
The lush garden between the villas and apartments offers a nice walk and privacy on your veranda.
Whether it was an apartment or a villa/house, we all agreed that they were well built, cozy and tropical. 
Another reason I believe the Morena Eco Resort is one of the unique places to stay in Curacao is its commitment to the environment.  
One of the best neighborhoods and places to stay in Curacao that is worth the money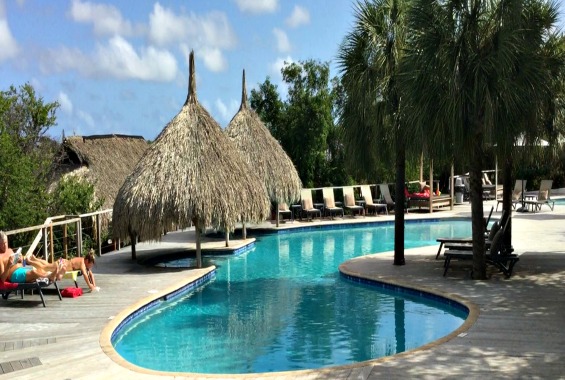 At the four saltwater pools, there are a lot of beds, you never feel crowded so there is no need to reserve any chairs. Credit: Caribbean Golf Getaways
For example, towels are changed only upon request.
Expect housekeeping visits every 3 days; we found this to be good enough.
To conserve water, the shower has a push and release tap, which means you need to press it every 10 seconds, and since the water is heated by solar panels, the hot water tends to take a long time to be delivered.
At first, I thought this was a big deal but in the grand scheme of things, to me it really was not that important.
On the other hand, my better half found it to be an issue when she was trying to wash her hair.
The eco-friendly mindset even extends to its salt water pool instead of chlorine.
The resort is located in Jan Thiel one of the most exclusive areas of Curacao.  
A supermarket is close by where you can get all your groceries. Credit: Caribbean Golf Getaways
Just a ten-minute walk has you at a large grocery store where you can stock up your fridge.
We found this to be very convenient to have a snack, breakfast or lunch back at the apartment each day on the patio.
It is also a ten-minute walk to the closest beach, Jan Thiel, which is especially popular for its soft sands.  
The water is a perfect temperature, and you will find there are plenty of lounge chairs (for rent), with beachfront restaurants and bars close by.
The only downside is that the beach can get very crowded, especially on the weekends.
For this reason, I suggest that you go explore the rest of the island by renting a car on-site at the resort.
Wherever you choose to explore, nothing is more than a short drive in Curaçao.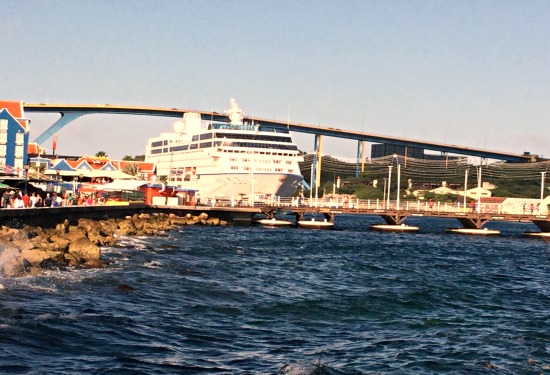 The Capital city of Willemstad is a lively place where cruise ships dock. Credit: Caribbean Golf Getaways
The capital city of Willemstad is about a 15-minute drive away. There you will find great restaurants and a vibrant night life.
Off the beaten track on the western side, you'll discover stunning beaches and great diving which can be reached in 20-30 minutes. Like Blue Bay Beach.
Or you may want commute like a local and go by bus, but be aware that it only passes by every hour right in front of the resort.
Taxis are expensive.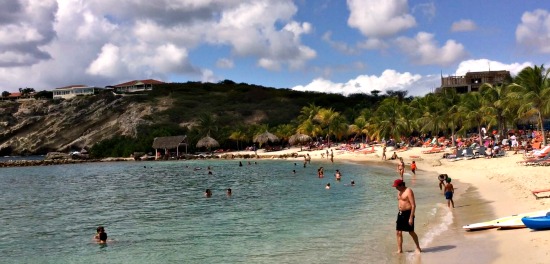 After 18 holes at Blue Bay Course head to its beach and just chill. Credit: Caribbean Golf Getaways
At the Morena Resort there are two restaurants. Fuego which serves breakfast, lunch and dinner.
I suggest making a reservation, as it can be hard to get a table.
Restaurant Mocca is right by one of the pools and has a wonderful menu from early morning until late night, as well as a good spot for Happy Hour.
There are also other restaurants at Jan Thiel beach.
We enjoyed Zest, Tinto and Zanzibar, which were all quite good. Zanzibar is a great spot on the beach, especially at happy hour. 
This is the place if you have a hunger for a late night pizza or want to unwind with your favourite cocktail at happy hour. Credit: Caribbean Golf Getaways
As part of your stay at the resort I highly recommend a Spa Day at the Mazzai Spa.
There you have the choice of pampering yourself with various wellness treatments such as herbal massage, facial scrubs, pedicures and hot stone therapy.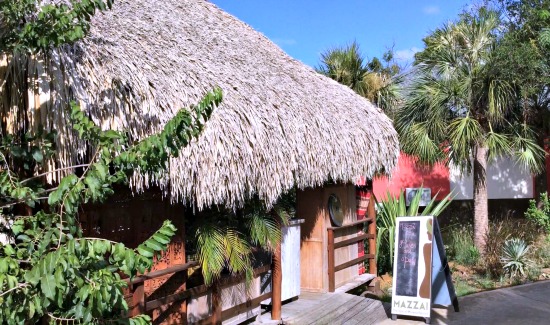 Have a Spa day so you can relax and recharge. Credit: Caribbean Golf Getaways
What I really loved about staying at Moreno Resort was not only how friendly and attentive the staff was, but also how incredibly peaceful and quiet it was.
That's why you will find it to be one of the more unique places to stay in Curacao.