Experience some of the Caribbean's best golf in Mexico Riviera Maya




Melanie Reffes
Here's the facts of where to stay and play golf in Mexico. 
Probably the best spot is the Riviera Maya, it's at the crossroads of Mayan culture and home to world class courses.
The popular city of Cancun is where you find resorts that line the beach, tours that excite history buffs and excursions tailor-made for adventure seekers, taco stands, tequila bars and plenty of perches to unwind under the Mexican sun.

There are 14 golf courses to challenge any golfer no matter the skill level www.cancun.com/ 
Brand reliable on the beach (yes, you can use your Marriott points to book a stay), there is the JW Marriott Cancun Resort & Spa which is gussied up following a multi-million-dollar renovation to all 447 ocean view rooms and suites.  
With a bevy of holiday must-have's and close to some of the best golf in Mexico, the resort invites with the private Club 91, expansive spa, meandering pools that front the sea and a sandy stretch of beachfront perfection. 
Ratcheting up the vacation meter, there's tennis, water sports, and quality time on a comfy sun chaise planted on the sand.  
Those little extras that make a world of difference run the gamut from Illy espresso makers, robes, slippers and spacious balconies to high-speed gratis Wi-Fi that works on the beach, room service and the International Jewelry Center near the lobby for a spontaneous bling buy. www.jwmarriottcancun.com
Ready to test your game? The resort offers golf packages to the Puerto Cancun Golf Club. 
This 18-hole course impresses with 2 sea view holes and a Clubhouse for sips and snacks.  
The Little Secrets to some of the best golf in Mexico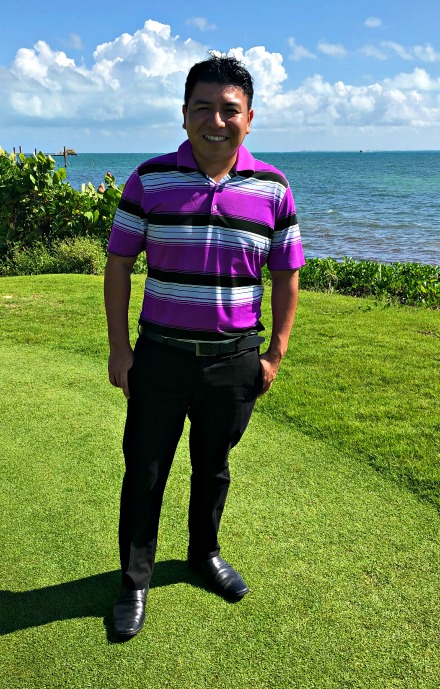 Erick Ake Pacheco runs the show at the Puerto Cancun Golf Course Credit Melanie Reffes
The 'Ultimate Golf Getaway 'includes deluxe accommodations at the JW Marriott Cancun, daily $50.00 resort credit, green fees and round trip transportation.
"The Marriott package for golfers is a great deal because the course is close to the resort and the package discounts green fees which we know is a big plus for players, "said Erick Ake Pacheco, manager, Puerto Cancun Golf Club.    
Designed by British Open Champion Tom Weiskopf, the par 72 marries modernity and Mother Nature with holes that play along the canals and mangroves. 
The greens are well maintained.
There are 5 sets of tee boxes that will challenge any player.
You'll experience winding narrow fairways with strategically placed traps protecting the greens and lots of water especially on the front 9. 
Clearly designed to keep every golfer on their toes the finishing hole is a stunning view of Puerto Cancun's main canal.  

Here's how to improve at golf in Mexico
Open from 6:30 am to 7:30 pm, you've got plenty of time to work on any area of your game.  
 "We offer plenty of options for players like private instruction for $80.00 an hour and for those preferring a golf clinic, we hold group classes from 7 am to 8 am on Tuesday and Thursday for USD$15.00," adds Erick Ake Pacheco, manager, Puerto Cancun Golf Club.   https://puertocancungolf.com/   
With so many courses in Cancun, you can play a different one every day.
"Cancun is a unique golf destination with our courses offering a spread of beach and jungle views and 3 PGA courses which is more than on any other Caribbean destination," said Tiffiany Holmes, hotel manager, JW Marriott Cancun, " in addition to the package we offer at the Puerto Cancun Golf Course, our concierges arrange tee times , lunches to go and pro lessons at any one of the other courses in Cancun.  "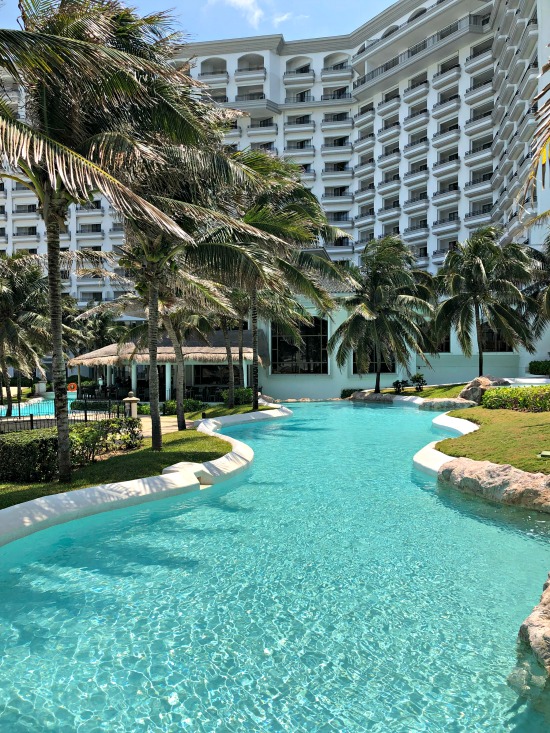 Meandering pools at the JW Marriott Cancun Photo Credit: Melanie Reffes
Back at the JW Marriott Cancun, keep your camera ready to snap photos of Mayan-inspired sculptures and the colorful Cancun sign in front of The BeachWalk restaurant.  
"Opening our guests up to the world around them is one of the most authentic travel experiences they can have, "said Christopher Calabrese, VP and general manager. 
From tacos to tequila, there's plenty of variety at ten restaurants and bars at the JW Marriott Cancun and the adjacent Marriott Cancun Resort. 
At the JW Marriott Cancun, Sedona Grill is the real deal with the sumptuous Mexican buffet every Friday where musicians get groovy as hungry diners' taste-test local signatures like tangy ceviche, chocolate chicken and tacos to beat the band.
"This is the ideal choice for our guests looking to eat local, "smiles   Yadira Barojas, marketing supervisor, "we encourage everyone to try new dishes and return for seconds."
Shake it up at the JW Lobby Bar where the 150-margarita menu is a fan favorite.  
Created by a team of talented mixologists, the 'Ritas' are shaken and stirred with Mexican tequila; some infused with vegetables and hot peppers.  
Sample a flight or sip just one like a refreshing Peach Pina with orange liqueur and a squeeze of lime or a Chocolate Rita made sweet with raspberries and Bailey's.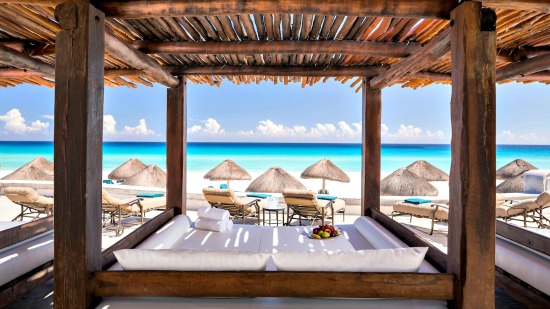 Bali beds at JW Marriott Cancun Resort & Spa are enchanting with views of the Caribbean Sea Photo Credit: JW Marriott Cancun
Upping the ante, poolside and beach service is available to those relaxing on a sun lounger. 
Open at 6 am, Gift Shop and 750 Pizzeria is the go-to for a sunrise espresso, slice of New York-style pizza and an impressive selection of souvenirs.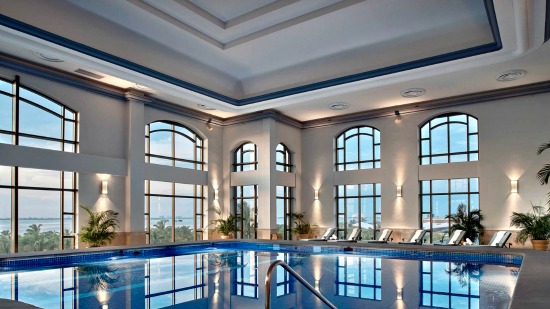 The Spa with an adults-only pool and views of the Nichupte Lagoon is popular with couples staying at the JW Marriott Cancun Resort & Spa Photo Credit: JW Marriott Cancun
Open from 6:00 am to 11:00 pm, the Spa invites with Mayan-inspired massages, Olympic-style pool, tennis courts, fitness center, steam room and hypnotic vistas of the sea. 
For golfers, a gentlemen's facial and a Swedish massage are very relaxing while for couples who play together, a twosome massage kicks up the mojo.  
8 more outstanding places to golf in Mexico 
To produce some of the best of golf in Mexico many of the game's biggest names and course design legends have created some outstanding golf courses in the area.
Names like the great Jack Nicklaus, Robert Von Hagge, Greg Norman, Nick Price and Robert Trent Jones Jr. just to name a few.
An avid golfer, Christopher P. Calabrese, vice president and general manager, JW Marriott Cancun, loves to tee it up.
"My favorite course, "he said, "is the Playa Mujeres Golf Club which is a spectacular golf course featuring views of the sea and La Isla Mujeres in the distance." 

A thirty-minute drive from the Cancún International Airport and five minutes to downtown Cancun, 18-hole Playa Mujeres Golf Club teases with trade winds from the Caribbean Sea that require laser-sharp accuracy and unfettered determination.  

Playa Mujeres Golf Club is a 30-minute drive from the airport in Cancun Credit: Playa Mujeres Golf Club
Popular holes include Number 5 which is a dog-leg left, 553-yards par-5 with a large green-side bunker on the front right that can be a tad tricky.
Give thought to which club makes sense to use.  
Hole 12 also challenges even great players with water on the right and a big beach bunker protecting the green making for a tough par 4 on the back nine. 
The shortest par 4 on the course, Hole 16 comes in at just 386 yards playing on smooth sand dunes that look at Isla Mujeres. www.playamujeres.com.mx/  
Also, on the Cancun golf A-list, El Camaleón Mayakoba is another World Golf Hall of Famer Greg Norman (aka.the Shark) - design that hosts the celebrated PGA Tour's OHL Classic in November.   
A round on the course is a reasonable green fee USD$199.00 if you're staying at one of Mayakoba's three resorts and nearly $300.00 for those staying elsewhere in Cancun.  
Close by, is the P.B Dye-designed Iberostar Playa Paraiso Golf Club which is popular with visiting golfers, one tip is be sure to buy a yardage book because the course holds many secrets for first-time visitors.
So, you might as well be prepared as best you can.  
The most southerly of the courses, Riviera Maya Golf Club at the Bahia Principe Resort in Tulum is Robert Trent Jones, Jr. -designed has stone-lined fairways and grass tolerant of the saltwater from the Caribbean Sea.   
Another popular course is El Camaleón, one of its signature holes is #15 a 155-yard par 3 which runs alongside the Caribbean Sea providing postcard-perfect views of Cozumel.  
World Golf Hall of Famer Nick Price-designed the Grand Coral Riviera Maya Golf Club which is a stop on the Mexico Golf Tour.
In the heart of Cancun's Hotel Zone, you will find the Cancun Golf Club at Pok Ta Pok which is open 365 days a year from dawn till dusk.

This is impressive course as an 18-hole championship beauty with two practice putting greens and a driving range.  
Interesting for history buffs, the course was once home to the ancient Mayans with ruins visible throughout the course. 
At the 19th hole be sure to get a refreshing fruity cocktail and views of the Nichupté Lagoon.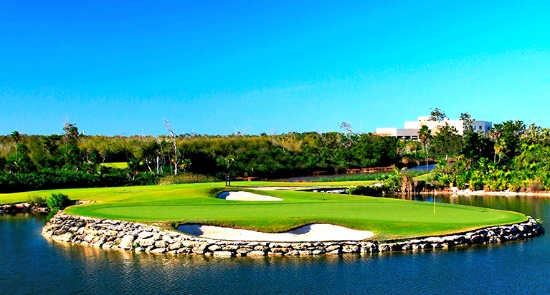 The golf course at the Moon Spa & Golf Club is in a lovely setting and is 18 holes of challenge and fun Credit: Moon Palace Cancun
The Iberostar Cancun is the only resort in the Hotel Zone with an 18-hole, par 72 championship golf course on property.
With reasonable green fees and discounts for resort guests, that include cart, unlimited snacks from the beer cart, a practice range, putting green, golf shop, equipment rental and lockers.  
For nature lovers, crocodiles like to wander the course.  
The course at the Moon Spa & Golf Club is one of two in Cancun designed by the Golden Bear Jack Nicklaus. 
Guests staying at the Beach Palace, Sun Palace, Le Blanc Spa Resort and Playacar Palace receive free transportation to the course although non-guests are also welcome to book a tee time.  
Green fees include food and beverages at the Club House, snacks on the course and a shared golf cart.
The signature Hole #17 is framed by a lake, sand traps on each side and one more in the center of the green.  
Still want to work on your game?
There is a Jack Nicklaus Golf Academy that offers classes taught by certified instructors.
Save-the-date, The Mexican Caribbean Golf Courses Association is the go-to for a calendar of upcoming golf events in Riviera Maya from Cancun to Tulum; both for players and spectators.  www.playgolf.mx/
There is more than just golf in Mexico
Bring your pesos and meander the markets and malls in the Hotel Zone like La Isla Shopping Village where you'll find labels like Hermes and Prada, craft boutiques, restaurants and bars.  
For those who prefer an open-air market vibe, Mercado 28 and Plaza Bonita is where artisans sell handcrafted leather and bars offer gratis shots of tequila to keep shoppers in a buying mood.  
For a swanky selection, Luxury Avenue Shopping Mall is chockablock with brand boutiques from Fendi to Cartier. https://luxuryavenue.com/  
For a day away from the fray, take the ferry to Isla Mujeres or Island of Women with its sandy smooth beaches, dining by the water's edge, sublime snorkeling, and bars that stay open late until the last ferry returns to Cancun.  
High octane fun for couples on the Cancun Snorkel and Speedboat Adventure credit: Island Routes
Keeping the theme, rent a golf cart for exploring the petite isle. For a day in the warm Mexican sun, there are plenty of tours sold at the resorts and kiosks in the Hotel Zone.  
Offered by Island Routes, the high-speed Aqua Twister is an exhilarating ride through the unruffled waters of the Nichupté Lagoon.  
Perfect for those who like the wind in their hair, the 20-seater boat is vacation-perfect on a sunny day.   
For fans of down under, Cancun Snorkel and Speedboat Adventure is high octane tour for couples who like to navigate their own speedboat through the lagoon and wide-open Caribbean Sea.   
Snorkeling through the Cancun Underwater Museum with its life-sized sculptures made from marine cement that promotes the growth of coral is an adventure not-to-miss.  www.islandroutes.com. 
A soak in the cenotes or sacred underground rivers are a Mexican vacation rite -of -passage.
With easy pick-up from the Hotel Zone resorts, Aqua World Tours take adventure-seekers to the cenotes of Puerto Morelos where you'll also find zip lines, bikes for exploring the jungle and hammocks for an afternoon siesta.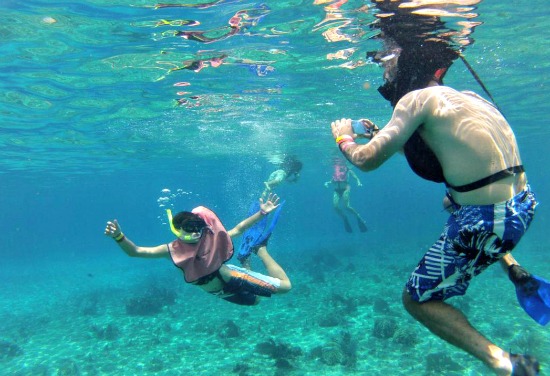 Cancun Snorkel and Speedboat Adventure is offered by Island Routes Adventure Tours Credit: IRAT
It's up, up and away on the 2-seater Skyrider that glides high above the resort-lined shoreline and the less fluttered Nichupté Lagoon. https://aquaworld.com.mx/en .   
For the party hearty, Coco Bongo is a grownup -only fun house with musical shows and tequila-fueled foam parties.  
For those with kids in tow, Jolly Roger Pirate Show includes dinner on a big ship with on board cannons and fireworks. 
Boarding starts 30 minutes before the show at mbarcadero of Playa Linda in the Hotel Zone.  www.pirateshowcancun.com/  
Thinking of staying playing golf in Mexico?
It has everything you going to need whether you are couple or a group of golf buddies or gal pals looking for good times and exceptional golf.
Caribbean Golf Getaways > Golf in Mexico