Have you ever considered golf Travel to St. Lucia?  –  Well it's a beautiful island paradise in the eastern Caribbean
Is this is the perfect destination for an adventure with your friends?

While there may not be a lot of courses to play, the golf course are still fun and a little challenging.

It still will appeal to golfers of all playing abilities.

The weather is near-perfect all year long, and the locals are friendly and waiting to help make your vacation to St. Lucia one you and your friends will not soon forget.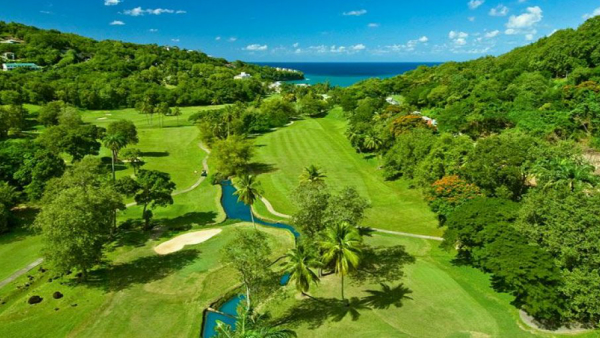 Sandals La Toc Golf Resort in St. Lucia is a sprawling green course Credit: Sandals
Located in the Eastern Caribbean Sea, Saint Lucia is a tropical island country that is part of the Lesser Antilles.
St. Lucia is situated south of Martinique and north the Grenadine Islands.
You will discover the locals are friendly and welcome guests to the island.
The island is safe, and the crime rates are low.
If you are thinking about golf travel to St. Lucia, you should consider visiting in May or June, as these travel dates in late spring and early summer come with near perfect temps around 75 degrees!
This is also the best time of year to get the least expensive rates for accommodations!
From gorgeous mountains and tropical jungles to pristine beaches and historic landmarks, St. Lucia is definitely 'bucket-list' worthy for you and your gang's next adventure for golf travel to the Caribbean.
Play for free at 2 courses in St.Lucia when staying at 1 of 3 Sandals Resorts Credit: Sandals Resorts
Where to play? 
There are two golf courses on St. Lucia for players to choose from – the Sandals Regency St. Lucia Golf Resort & Spa and the St. Lucia Golf and Country Club, which is located at Cap Estates on the northern end of the island.
Both offer lush tropical landscapes with backgrounds of crystal blue waters of the Caribbean Sea and the Atlantic Ocean.
The island's landscape adds to the natural contours of the land, giving the holes uneven lies, elevated greens, and tricky fairways.

There is also a driving range with bunkers and a putting green.

Getting to St. Lucia
This island paradise is closer than you think, as St. Lucia is only about a 4.5-hour flight from NYC.
Most major airlines in the US and Canada have service to the island.
From the US, there is direct service to St. Lucia from American, JetBlue, Delta, and United Airlines.

Those flying from Canada can use WestJet, Sunwing and Air Canada.
So get your favorite golf travelling companions together and make plans for an unforgettable adventure to St. Lucia.
Golf is included with stays at Sandals Regency La Toc in St. Lucia Credit: Sandals