Runaway Bay Golf Club. Photo Credit Jewel Runaway Bay Resort
These luxury travel tips I'm suggesting to is to get you to treat yourself to an escape to the Caribbean. You deserve to unwind and enjoy some of those vacation days you've worked so hard for!
The perfect combination of beautiful views, long sunny days, world-class golf courses, and pristine beaches with sandy shores is what most people dream of when they imagine a luxury Caribbean escape.

From the beautiful beaches of Antigua to the tropical simplicity of Roatan, the islands of the Caribbean each have their own unique landscapes, cultures, resorts, and attractions that bring millions of visitors each year who want to enjoy a luxury Caribbean vacation.
Looking to treat yourself to an amazing golf vacation at a luxury resort in the Caribbean?
Here are some of my luxury travel tips to help you get a good value at world class resorts that allow you to do it in the luxurious style you deserve.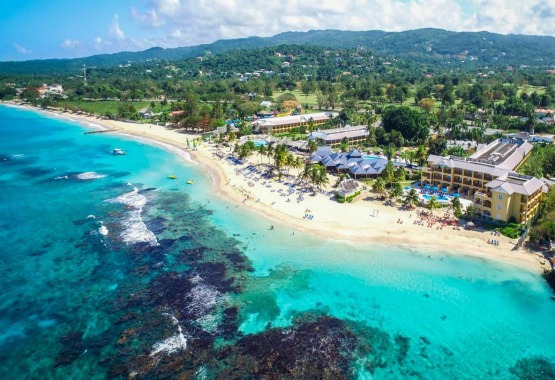 The clear blue water at Jewel Runaway Bay Beach & Golf. Photo Credit Jewel Runaway Bay Resort
1. Find an all-inclusive resort – One of the best ways to experience the amazing luxury resorts of the Caribbean is to stay at an all-inclusive property.
There are a variety of upscale resorts that offer guests all-inclusive packages that include meals, activities, and even unlimited cocktails.
This is the perfect way to get a great deal on luxury accommodations in the Caribbean.  

2. Take the family on a golf adventure and more - If you're looking to get in some golf time during a family vacation, Jewel Runaway Bay Beach Resort & Waterpark in Runaway Bay, Jamaica offers something for everyone.
Surrounded by pristine beaches and immaculate seaside golf courses, this all-inclusive family resort offers great amenities for adults and children alike.

From the unlimited golf at the nearby Runaway Bay Golf Club to spending the day at the resort's onsite Waterpark, this is a great choice for a luxury family Caribbean getaway.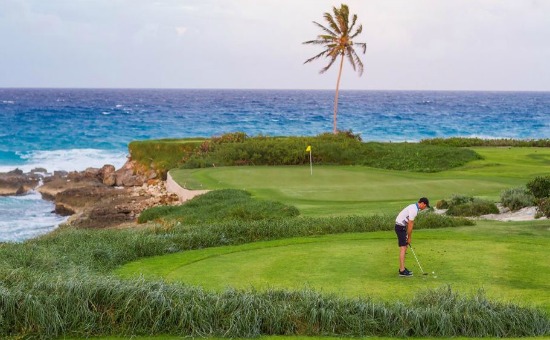 Looking for a safe place to land on the green at Sandals Emerald Reef Golf Club in Great Exuma. Photo Credit - Sandals Emerald Bay
3. Indulge at an adults only luxury escape – Sandals Emerald Bay, Great Exuma Bahamas, is a great place to escape from it all, enjoy a round of golf on a pristine seaside course, and relax in the Caribbean sunshine doing it with the special person in your life.
Golf packages offer guests of Sandals Emerald Bay Resort the option of unlimited play at Sandals Emerald Bay Golf Course, and other golf stay packages to enjoy. If your companion does not golf they will love the outstanding spa services.
4. Get pampered at all-inclusive luxury resort -  Stay at an all-inclusive outstanding resort like Sandals Regency La Toc in St. Lucia that offers guest packages that even include green fees and transfers to any their two challenging golf courses on the island.
This upscale 5-star property is situated on a 220-acre estate with a crescent-shaped beach, an executive-style golf course, and luxury oceanfront suites.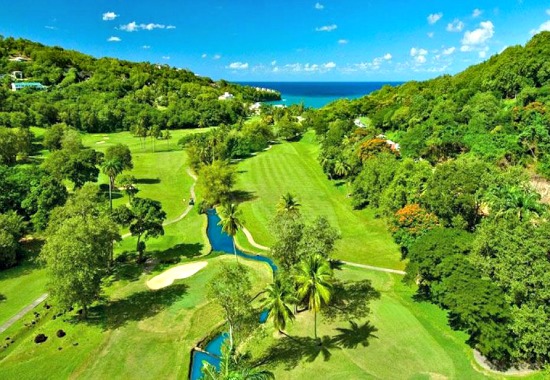 Photo Credit-Golf Advisor- Sandals St Lucia Golf and Country Club
5.Travel in the Off-Season for the Best Luxury Vacation –  One of the best luxury travel tips is to plan your vacation for off-season travel.
It just makes sense to get the most out of your luxury getaway.
So any time after spring break or early fall are considered off-season.
There will be fewer crowds and the rates for airfare as well as accommodations will be at their lowest, giving you a great vacation experience at a great rate!
6. Head to one of the Caribbean's best kept secrets Roatan - Located within a 10-minute walk from West Bay Beach, one of the top beaches in the world, West Bay Golf Club Villas offers a unique luxury golf experience in Roatan, Honduras.  
Large 2-bedroom golf villas with concierge service and amazing beach access make a golf escape to this barefoot island a good idea.

7. Take advantage of the Currency Exchange Rate – Savvy travelers in search of great deals for a Caribbean golf vacation should seek a golf resort where your currency is worth more.
This will give you more bang for your vacation buck and allow you to splurge a bit more at the golf course!
Using these luxury travel tips will help you plan the Caribbean golf vacation you've been dreaming of.