Are You Ready to Discover
West End Roatan Now?
West End Roatan has so much to offer. 
You'll find it on the northwestern end of the island, it's the place to be when visiting this barefoot island in the Caribbean.

Located along the perfectly shaped crescent beach of Half Moon Bay, the village of West End has plenty of activities I discovered, including restaurants, bars, scuba shops, gift boutiques, and artist galleries.
The main "strip" in West End Roatan. You can find eclectic shops, fishing charters, restaurants, and scuba diving trips. Photo Credit: Caribbean Golf Getaways.
Here are some of the fun and exciting things I found to do in the West End during my vacation to Roatan, Honduras.
Embrace the Culture of West End Village – Often referred to as the main "strip" in West End Roatan, West End Village is where you can find eclectic shops, fishing charters, restaurants, and scuba diving trips. 
Whether you have a sweet tooth or not, you have to stop in at the Roatan Chocolate Factory for 3 reasons. 
1. The company's main goal is to give back to the local indigenous communities and protect the Rainforest where the cacao comes from. 

2. Their chocolate has health benefits (100% pure and organic) as it is all hand made in small batches, with no artificial flavors, fillers, colors or preservatives.
The cacao in the chocolate is known to help with things such as: cardiac and stroke protection, ease PMS symptoms, improve brain functioning and just make you feel good.
 3. It is the best chocolate you will have tasted in your life.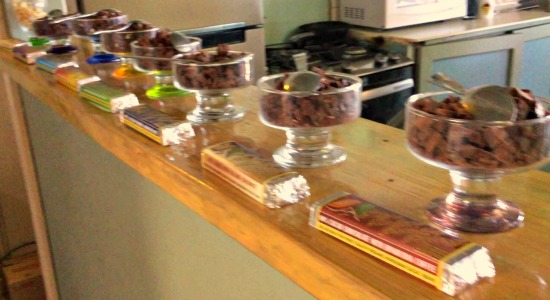 Some of the creations you get to sample at the Roatan Chocolate Factory. Photo Credit: Caribbean Golf Getaways
At night, West End Village comes alive with activity and offers bands and entertainment, restaurant deals, lively Happy Hours, and plenty to keep you engaged throughout the night. 
Beach It – Enjoy the natural beauty the island of Roatan offers by spending some time on its world-famous beaches. 
Half Moon Bay in West End Roatan is a popular beach with those looking to spend the day snorkeling, soaking up some rays, enjoying a seaside lunch, or shopping in local boutiques.
Beautiful sandy shores and lively restaurants and bars draw crowds.
Get out and explore West End Roatan!
Get Out on the Water – West End Roatan is the perfect place to get out and enjoy the crystal blue waters of the Caribbean.
From scuba diving and snorkeling to fishing charters and boat rentals, spending a day on the water in Roatan is an amazing experience you won't want to miss.   
Play a Round of Golf – Golf the day away in West End Roatan at the West Bay Golf Club. Home to the Black Iguana Golf Course, you will enjoy playing this challenging 9 hole par 3 course surrounded by lush, tropical landscaping and beautiful island scenery. 
The Pete Dye designed course offers a unique experience for visitors of Roatan and allows you to completely immerse yourself in a tropical golf experience at West Bay Golf Club.
Grab a cocktail and relax! Photo Credit: Caribbean Golf Getaways.
Visit the Butterfly Gardens – Since there are over 700 types of butterflies in Honduras, it only makes sense to create the beautiful Butterfly Gardens in West End Roatan to celebrate them. 
Located near West End Village, the Butterfly Garden is a great place to visit to learn more about butterflies and explore the grounds and natural habitat as part of your Roatan vacation adventure.  
Spending some time in West End in Roatan will remind you to relax and slow down a bit.
Because we all need this helpful reminder from time to time, this barefoot island in the Caribbean is becoming a quite popular vacation destination. 
With its relaxed island vibe and beautiful unspoiled nature, Roatan is a special piece of paradise that steals your heart until you return again and again.