When I began my Aruba accommodation research it made me realize how many choices I had.
Not knowing what to expect, I heard the island of Aruba can be an expensive island to visit, but I was determined to not let that discourage me.
There are plenty of places to stay to meet any budget, from the very high-end hotels like the Ritz Carlton to a community of elegantly furnished homes offering a full kitchen, living/dining rooms, and private pools with patio furniture over at the Tierra del Sol. 
I finally decided to stay at the Marriott Aruba Surf Club, and here are a few reasons why.
It's one of three huge beach side Marriott Aruba accommodation resorts that sit side-by-side in Aruba's popular beachfront High-Rise District.
It's an easy $25-drive from the airport. Since the island is not that big, the taxi ride would not take long. 
On our ride to the hotel, our driver shared with us what the secret to loving the island is.
He told us just to eat, drink, and relax. If you follow those rules, we would enjoy Aruba.
View from our room
The Marriott Surf Club is an Aruba accommodation right on Palm Beach and is about a 5-minute walk to the Palm Plaza Mall, which has tons of shopping and restaurants. 
Besides two pools there is a lazy river. How cool is that?
From the quick and easy check-in, I knew I had made the right decision.
At the Marriott Aruba Surf Club, the rooms are clean (with kitchenettes), and apartments that are spotless and comfortable.
It was recommended to me to ask for a high floor.
This is a bonus as these rooms are the closest to the beach.
Depending on the type of vacation you are looking for, you can have it either way at this resort.
The amenities are perfect for families.
There are 2 infinity pools, a lazy river, water slide, and lots of activities for families, including a Nintendo Wii Lounge exclusively for teens.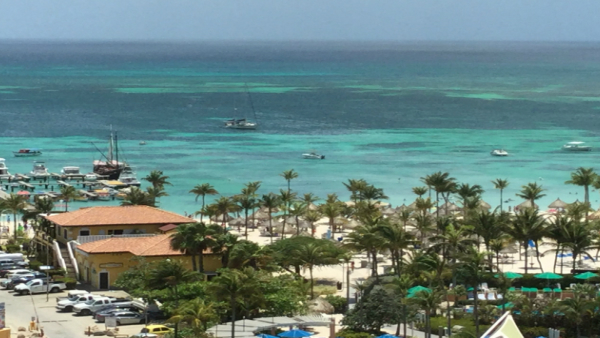 The beach is not far away.
It also can be a perfect getaway without the kids with a serenity pool for adults and a party pool.
There is a huge state-of-the-art fitness center and spa. Everyday, there are classes, such as yoga, to get you back in touch with your mind and your body.
Excellent romantic restaurants right on the beach and a casino next door.
But no matter your age, nothing beats floating down the Surf Club's lazy river.
It's nice to float through, as opposed to just sitting in one spot at a pool. 
You can float through without a tube or noodle, but you may need to doggy paddle a little. 
Tubes and noodles are not included. You have to buy at the gift shop.
My tip is to bring one from home and inflate it there.
They have free pumps to blow up the floats.
You honestly can float in the lazy river all day.
There are also several iguanas and lizards that hang out by the pool and lazy river.
This Marriott is a timeshare property so expect to be invited to a presentation.
They aren't pushy about it.
If you are not interested, it's not a problem to decline.
All of the hotel staff we interacted with were very friendly.