Barbados All Inclusive Resorts: 
Here's one spot you get
value for your money!
Doing my research of  Barbados all inclusive resorts I discovered they are ranked as some of the very best in the whole of the Caribbean region, probably even the world.
Barbados can be an expensive holiday destination, but there are ways to save money.
One property I stayed at was the Savannah Beach Hotel, this is a well maintained beach front hotel that offers fantastic value for money.
Even better… the rooms are clean and spacious.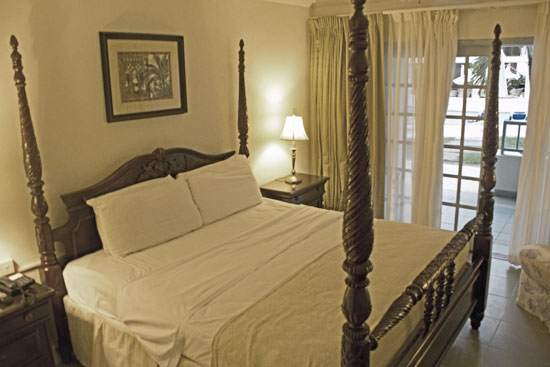 Savannah Beach Courtyard Room.
Some properties on the island cater to avid golfers by helping you book tee times at a course like the Barbados Golf Club.
It is very reasonably priced and is a hit with the locals as well.
At  Barbados all inclusive resorts like the Savannah Beach will offer a choice of eating venues and these will tend to range from snack bars and cafés, if you are looking  for a quick bite, to more formal dining options when you really want to make a night of it.
There is also a good choice of bars in which you can unwind after a hard day on the golf course. 
My day began with breakfast at Rachel's, it was consistently good probably because of the egg chef who was a master at creating a delicious omelette for me.
For lunch at Drifters served an appealing good selection of buffet style choices. Ranging from BBQs to fish, vegetables and salads. 
Then for dinner at Rachel's a la carte, what I loved about it was that I had options on the menu of mouth watering dishes always presented beautifully. 
If  you were choosing to stay in a four or five star hotel anywhere in the world, we all know how quickly costs would mount-up
especially if you are paying for every meal and drink individually.
Barbados all inclusive resorts secrets
Then, add to this the cost of activities such as water sports and,

of course golf, in no time at all you would have accrued a bill that could spell financial ruin when you get back home. 
This is where Barbados resorts like the Savannah Beach excel, you pay one flat rate and can then relax and enjoy as many meals, drinks and facilities as you like without the stress of passing out at reception upon check-out. 
Another great thing about the Savannah Beach is its location. 
Hastings is a lovely area, with a selection of bars and restaurants a short walk left or right out of the hotel. 
It is real close to the popular St Lawrence Gap area. 
One thing's for sure... 
If a Caribbean golf vacation package seems appealing to you, do yourself a favour and check-out some of the all inclusive resorts, like the Savannah Beach they offer great value when you are trying to stay on budget.