The Best Luxury Vacations for Golf to Book Right Now!
Looking for the best luxury vacations for golf? 
It should be a unique and luxurious destination, one of my favorite places is the beautiful island of Barbados. 
From oceanfront resorts chock-full of upscale amenities to island golf clubs with private villas, the best luxury vacations in Barbados are waiting for you to discover.
Relax by the pool Photo Credit: Sandy Lane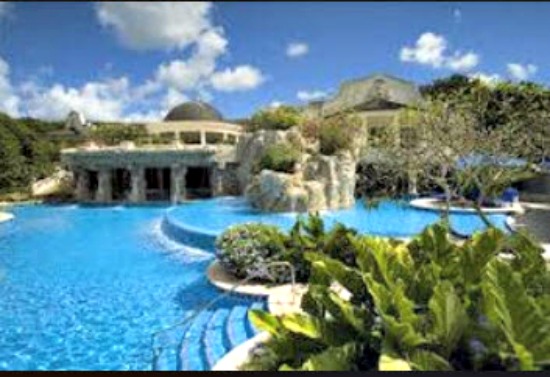 Sandy Lane Hotel – For one the best luxury vacations for golf in Barbados, consider the Sandy Lane Hotel, home to the #1 Hotel Spa in the Caribbean by Travel + Leisure Magazine. Stay in a stunning suite or a private oceanfront villa and enjoy all of the amazing resort amenities for a fun and relaxing vacation experience.
Located in the parish of St.James
Expect to eat exceptional food in an island paradise overlooking the beautiful west coast with four onsite restaurants designed to celebrate local cuisine and the island culture.

Sandy Lane luxury golf resort in Barbados offers guests some of the best golf in the world, with three golf courses surrounded by the spectacular natural beauty of Barbados. 
Clubhouse at country club Photo Credit: Sandy Lane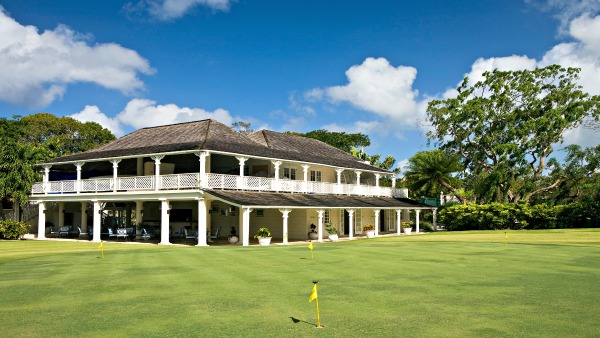 The Old Nine course has a lot of history to it, you'll be playing through the estate, while the Tom Fazio designed Country Club course brings it own challenges, you not only have to battle the course but you could find yourself like me being distracted by the breathtaking views of the Caribbean Sea.
And the third course is the Green Monkey also designed by Fazio can only be played if you are a guest at Sandy Lane.

 All three courses have you playing the most amazing rounds of golf surrounded by the unmatched beauty of the island.
Some of the best luxury vacations for golf make for unforgettable experiences! 
Golf Cart at the Country Club Photo Credit: Sandy Lane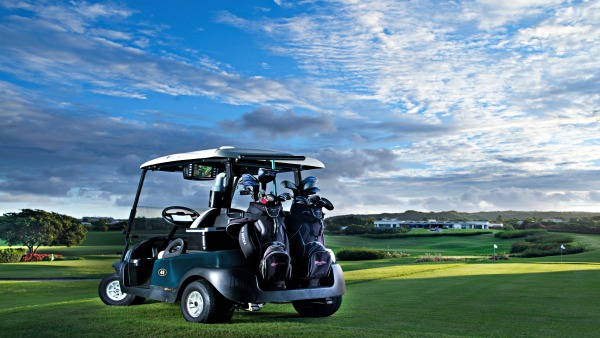 Apes Hill Golf and Polo Club – Escape to this Barbados resort for another one of the  best luxury vacations for golf in the Caribbean.
Relax on the beach, one of the resort's 3 swimming pools, or work on your swing at the prestigious Audubon Society certified Apes Hill onsite golf course.
Guests enjoy their choice of 32 individually decorated 3-bedroom seaside villas with full kitchens and private plunge pools for their Barbados golf vacation!
The par-72 championship course is rated one of the best in the world, with a variety of unique holes and stunning scenery.
Apes Hill Golf and Polo Club features luxury furnishings and a beautiful property for your luxury Barbados golf vacation.

To play the course you must be a member, be invited to play or staying at one of their stunning villas. 
Fall asleep with sweet Caribbean breezes in your villa bedroom at Apes Hill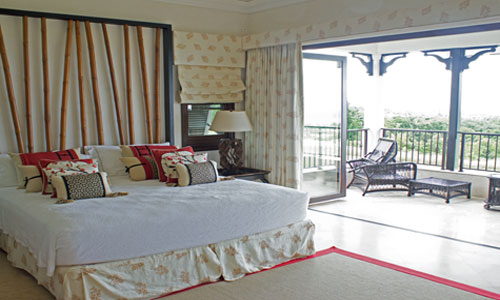 Be prepared for lots and lots of hills, some of your shots will have you going over mini canyons so with 5 different tee boxes. 
I strongly suggest you pick the right tee box to fit your golf skills. 
Don't bite off more than you can chew. 
The course is at the top of the island which makes it different from the other courses which are primarily flat. 
So what this means is you must get ready for greens that are going to have a lot of hills.
The deep bunkers at Apes Hill Golf Course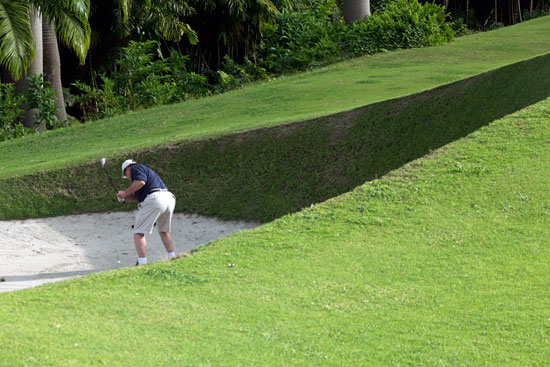 Royal Westmoreland Barbados – This world-class golf, beach and spa estate is located in St. James, on the prestigious west coast of Barbados. The gated resort offers tons of onsite amenities, vacation villas, an 18-hole Robert Trent Jones Jr golf course, members only beach club, fitness center, saltwater swimming pools, and more.
The Royal Westmoreland also offers some of the best luxury golf vacations for golf options to Barbados with your choice of 4-onsite restaurants featuring a variety of delicious cuisines to choose from.  
The perfectly maintained fairways and greens that meander throughout the estate and breathtaking views makes the golf course fun to play and challenging Par 3's to test your skill.
The Royal Westmoreland golf course is part of a high end community but you have few options to get to play the course.
Distinctive luxury homes and villas at Royal Westmoreland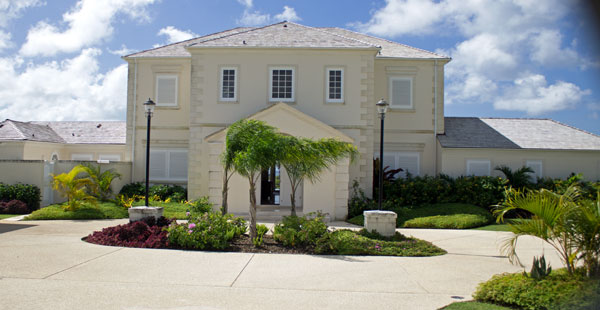 You can either be an owner of one of the beautiful villas, be a guest of a villa owner or you can rent a villa on the property.
This is a fairly friendly golf course, but that does not mean it will be an easy round.

Your biggest challenge will be the wind. This is something you will not be able to escape.

If you are a low handicapper this course will also put your golf skills to the test.
The key takeaway from whatever tee box you decide to play from when playing the course it is extremely important to be in the right spot if you want to score well.

From the tee box on a par 4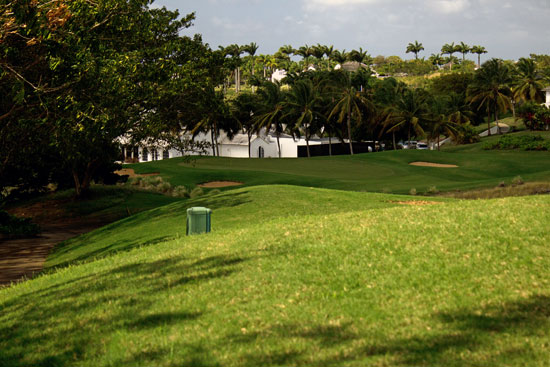 No matter what you are looking for in the best luxury vacations for golf, you have to admit Barbados is one of the amazing destinations in the world and is certain to please even the most discriminating traveler and golfer looking for an exciting new golf adventure to explore.