Can You Really Trust
Caribbean Restaurants?
Caribbean restaurants are world class and is another one of the great things I love about any Caribbean golf vacation is the opportunity to sample the various island restaurants.
Each island has its own unique flavors and tastes. Yes the all inclusive resorts normally have a few different restaurants to choose from within their grounds, and this is to cater to people with different tastes.
Therefore, anyone that wants to sample some traditional local dishes such as goat curry will be as equally happy as someone that would prefer Mediterranean or Western style food.
But if I am staying at a resort I look forward to trying different Caribbean restaurants where top chefs now put their talents on display.
I had a great meal at the Dune which is located at the One & Only Ocean Club on Paradise Island Bahamas. First I would start off with drinks at the Dune Bar.
The menu is a mix of French Asian fusion with local herbs and ingredients from the island.
I suggest eating out on the outdoor patio overlooking the beach. We were a party of 4 and we all tasted something unique from the menu.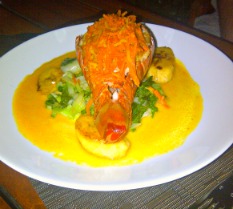 Dune's local lobster in a light curry sauce, fried plantain and bok choy
And I can tell you the food was of the highest quality and we thoroughly enjoyed our meals.
Another outstanding meal on a golfing holiday in Barbados was at Mango's by the sea. Again the food was superb.
I had fresh crab brûlée to start followed by the medley of seafood lightly grilled served with a vegetable salsa and basmati rice.
If you are an adventurous diner you might like to try some of the following local dishes that you will certainly encounter.
There is more to the islands than just Pina Coladas and Rum Punch (which are very nice of course), it's about mixing indigenous ingredients with African and colonial influences and so ingredients such as plantains, yams, rice and peppers might all be found in a meal.
Caribbean restaurants will serve outstanding food that includes spices, some of which may be hot to those that are not used to them.
Meat Roti: This dish has distinct Indian influences, and is made up from curried meat such as lamb or chicken which is then wrapped in a flat bread known as roti.
Available in almost any small restaurant, the resorts will also feature this dish, and it goes great with a beer!
Jerk Chicken: It would be almost impossible to escape this traditional Jamaican dish during a golfing vacation in Jamaica, and it is also available on some of the other islands.
There are as many recipes as there are restaurants it would seem, but the general idea, is the chicken is rubbed and marinated with hot spices before being cooked in a pit fire or even steel drum.
Curried goat and White Rice: This dish is available throughout the Caribbean, and is something of a staple meal.
For those that have never tried goat, it has a similar taste to lamb, although it is leaner.
One thing is for sure, no vacation in the Caribbean would be complete without trying some of the local food.
Caribbean restaurants offer a range of delicacies both local and from around the world but the chefs are creating exceptional food and you will find it will make any time spent on the islands a memorable mouth watering one.
From Caribbean restaurants to Caribbean golf holiday planning
Return to Caribbean Golf Getaways