Can you trust Freeport Bahamas Restaurants? 
Here are two Grand Bahama Favorites
Freeport Bahamas Restaurants can be a bit of a hit or miss. If the food is not good the service has been known to very spotty.
And sometimes that can be hard to take when the 15% gratuity is already calculated into your bill.

But I can confidently say that on my visit to the island of Freeport the restaurants I encountered were top notch along with the staff.
There is a mouth-watering variety of food choices to eat from fresh local seafood to flavors from around the world.
So there is something for everyone. While the choice was difficult here are 3 of my favorites.
Located in the Port Lucaya Marketplace Cappuccino's Italian Restaurant is a small quaint restaurant with a cosy atmosphere.
There are not a lot of tables so I strongly suggest you make a reservation in advance, so you will not be disappointed.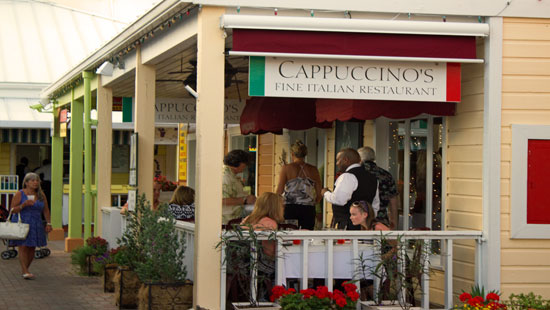 Cappuccinos in the Port Lucaya Market Place.
Having eaten at some terrific spots in Italy, this restaurant does provide authentic delicious outstanding food, in my opinion.
Actually it was difficult to choose what to order, luckily we all sampled the menu so we go to taste a little of everything, from the fresh pasta in the Lasagna to the thick garlic shrimp in the Linguini everyone was happy with their choices at the table.
My Veal Marsala had the right amount of seasoning and every bite made my taste buds explode with joy, so was the review of the Chicken Parmigiana breaded just right with a great sauce.
And then there was desert.
| | |
| --- | --- |
| | The Veal Marsala leaves you wanting more |
Freeport Bahamas restaurants
offer a taste of variety
Another one of the favorite Freeport Bahamas Restaurants can be found at the Grand Lucayan Resort is Churchill's.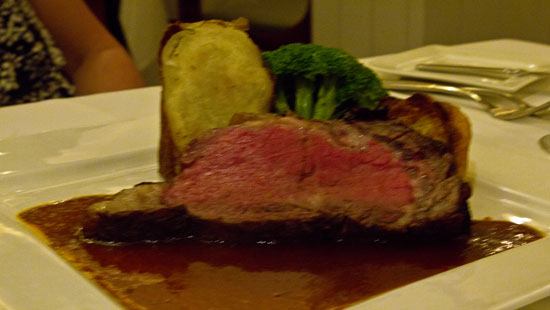 Churchill's signature Prime Rib.
Churchill's which is located in the lobby of the Grand Lucayan, I suggest having drinks at the bar first before heading in.
Or for that matter stop and have one after dinner the reason It is strongly suggested because  the live entertainment is that good.
As for the food the four course menu we dined on that night, was superb as was the service.
The manager took the time to stop by the table to see if we were enjoying our meal. The prime rib was thick juicy and prepared individually exactly as we each ordered.
There are many superb items on the menu to choose from including vegetarian options.
So if you are on the island and are confused on which Freeport Bahamas Restaurants will give you value for money and good food.
I recommend these two spots.