3 Golf Vacation Ideas for Couples
Any golf vacation ideas for couples have to be based on three things to consider.
It is all about the getaway with that someone special it should be an experience you both will never forget.
First you need to decide how much you want to spend?  
Do you want to stay at an exclusive resort with a that has butler service ?
How about an all-inclusive resort that has a wide variety of restaurants to choose from along with various activities?
Maybe a villa?
Second, there's a certain romance to being near the ocean.
And with this list there are plenty of places to make those magical sunset beach strolls happen.  
And finally you get the opportunity to play a really great golf course in the Caribbean.
Fun and challenging.
Here are 3 great golf vacation ideas for couples, each one offers you both everything you are going to need and want:
Cuisinart Golf Resort & Spa, Anguilla
The resort is located on Rendezvous Bay one of Anguilla's most gorgeous beaches and just steps away from rooms.
The resort maintains the beach, pools and grounds beautifully.
The team at the beach pamper you with towels, umbrellas and cushioned lounges and the pool attendants as well are constantly bringing you fresh bottles of cold water.
As one of the most exclusive golf vacation ideas for couples to make our list at the Cuisinart Golf Resort & Spa it is hard to decide do you lounge in a pool looking at the Caribbean ?
Or on the beautiful white sand of Rendezvous Bay enjoying the breeze and quick or long dips.
There is a Greg Norman Signature Design 18-Hole Championship Course that has breathtaking views and challenging, dramatic holes. 
 Some of the best golf vacation ideas for couples
Ocean Club, Paradise Island, Bahamas
This is a beautiful property, with easy access to a stunning beach, very attentive staff and a great signature restaurant "The Dune". 
The beach is located on a long stretch which is shared with a number of other hotels, but there is plenty of privacy.
The  Ocean Club Bahamas is a great place to completely get away unwind, recharge in complete comfort.  
And you really get that feeling as soon as you check in you are greeted with a cold towel and beverage. 
The Property is  impeccably maintained, one thing you absolutely must do is visit the gardens.
Just a short shuttle ride from the resort is the Ocean Club Golf course, Designed by Tom Weiskopf, it is really well maintained and wide open so the chances of you losing your ball are going to be difficult.
And yet the course is very challenging, for example the par 4 hole number 4, it's demanding because your second shot will be to the green slightly downhill and protected by the ocean to the right and behind with a bunker on the left.

Hyatt Zilara Rose Hall Jamaica
Your stay at the Hyatt Zilara starts right at the airport. Guests can relax at the Hyatt lounge  have refreshing cocktails before being transported to the resort.
Rooms are quiet you didn't ever hear your neighbors. 
The swim up bar is  mostly shaded with lots of ocean views.
Hyatt Zilara Rose Hall is an adults only resort and offers a variety of dining experiences ranging from elegant steakhouses to casual cafés, all included with your stay.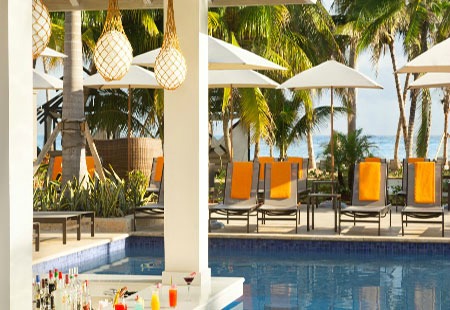 Islandz Swim Up Bar Adults Only
Enjoy limitless food and beverages—including alcoholic drinks—at restaurants and food carts throughout the resort, as well as at neighboring Hyatt Ziva Rose Hall.
Room service is also included and available 24 hours a day.
And they are happy to accommodate special dietary needs and restrictions (allergies, gluten free, dairy free)
The resort has three beaches, the Zilara beach is great for those who enjoy strong waves. 
White Witch golf course
As for the golf  there are two courses, if you prefer to play course with  challenging elevations and dramatic ocean vistas then play the  White Witch.
Or would you prefer the cool salt air as you putt on Cinnamon Hill's oceanfront course,
this is what makes this resort so much fun is the opportunity to have a choice to play two unique courses.
Another great feature is the opportunity to make your getaway even more sexy, indulge in experiences such as a candle light dinner for two: an intimate three course dinner served in a private beachfront gazebo or perhaps an in room rendezvous with sparkling wine, chocolate dipped strawberries with a sensual bubble bath.
How about after a day out on the course you treat yourselves to a couples massage spa treatment which can include beachfront massages, body wraps, facials and more.
Here are some more golf vacation ideas for couples who want to head to the Caribbean, which one makes it onto your bucket list?