The Best Husband-Wife Golf Vacation Getaways to Puerto Rico
Melanie Reffes

Looking for an unforgettable husband-wife golf vacation spot?
Why not Puerto Rico?
It does not matter whether one or both of you golf, this island has everything you're going to love on a Caribbean getaway.
It's adored by players worldwide; the Spanish island boasts an impressive 17 golf courses that are among the most diverse under the tropical sun. 

From holes that salute the shoreline to courses that greet the mountains, Puerto Rico is the stuff of green dreams for players and those who vacation with them.

So, if You're Struggling with planning your next husband-wife golf vacation check out our hot list of golf courses and sexy places to stay in Puerto Rico. 
The Wyndham Wow 

Fringed by the mountains that stand proud in El Yunque Rainforest, Atlantic Ocean and the Mameyes River, Wyndham Grand Rio Mar Puerto Rico Golf & Beach Resort is the only resort on the island with two championship golf courses managed by industry leader Troon Golf.
Both 18-hole courses; the first known as the 'Ocean Course' was designed by Tom and George Fazio and is sandwiched between the ocean and the mountains winding sleepily through lakes. 
For nature lovers, there are sand iguanas and ocean views at every tee.  The second course called 'The River' is a Greg Norman creation ideal for players of all levels with its shallow bunkers, wide-open greens and roomy fairways. 
Along the shores of the peaceful Mameyes River, the 6,945-yard course is favoured by players looking for a serene afternoon of play.
For those taking their game seriously (and who doesn't?), Troon Golf Getaway Package includes a USD$100 daily golf credit for play at both courses.
The resort recently unveiled a new Clubhouse with fine dining and a locker room and hosts the PGA Puerto Rico Open; the only official PGA event in the Caribbean.  www.wyndhamriomar.com/en

With a storied past that dates to the early 1950's, moneyed philanthropist Laurence Rockefeller built a deluxe resort in Dorado. 

Five years later in 1955, Robert Trent Jones, Sr. created the renowned East Course. 
Today the TPC Dorado Beach is home to championship courses that have hosted golf superstars and A-listers from around the world.
The 18-holes meander through sea-view coconut groves and green jungles tempting golfers at every turn.
The East Course re-imagined by Robert Trent Jones, Jr is a seaside stunner stretching 7,200 yards with trade winds from the Caribbean Sea playing into many of the holes. 
A variety of tees makes the course ideal for beginners and low handicappers . 
The more challenging of the courses, Sugarcane invites with large fairways, cavernous bunkers and the back nine enveloped by rivers and lakes. 
The third course called Pineapple is currently closed due to damage sustained following Hurricane Maria in 2017. 
One of the largest on the island, The Clubhouse is where you'll find the spirited Hacienda Bar & Terrace, international menu at Zafra, terraces for rummy cocktails after a day's play and a Pro Shop with a wide variety of everything you may need.  
A perfect husband-wife golf vacation include outstanding comfort and time to re-connect.
Golf packages are too-good-to-miss and include stays at the Plantation Resort Residences at Dorado Beach with multi-bedroom apartments and views of the golf courses.
Inclusions run the gamut from concierge services, gratis 4-seat golf cart, play at all the courses, access to Watermill Aquatic Adventure Park, Goodwinds Wind & Wave Center and charging privileges at Dorado Beach, Ritz Carlton Reserve, which includes Encanto Beach Club, Spa Botánico and Mi Casa Restaurant under the watchful eye of superstar Chef José Andrés. 
To celebrate a day of great play, tours at the Bacardi Distillery are 25 minutes from the resort, gambling at the Radisson Ambassador Hotel Casino is 30 minutes from the resort and Plaza las Americas; the largest shopping mall in the Caribbean is also 30 minutes from the golf courses.  https://tpc.com/doradobeach/

Coco Beach is tropical island living with a contemporary vibrant twist.
Snuggled between the lively capital city of San Juan and the El Yunque rainforest, Coco Beach is where you'll find a pair of sprawling 18-hole courses. 
Designed by PGA Tour pro Tom Kite, the Championship and International courses are pretty as a picture with vistas of snow-white beaches; ocean waves the color of a blue Tiffany gift box and vistas from the back holes that salute the mountains. 
Four nines are outfitted with different tee boxes ranging from 5,300 to 7,587 yards with both courses carpeted in seashore grass, white silica sand bunkers and water hazards for players who are up for a challenge.
The Clubhouse is one-stop-shopping for fine dining at the Paradise Bay Grille, heady cocktails at the Greens Lounge, massage room, Jacuzzi and a practice area with 2 putting greens and a driving range. 
Instructors are hand for private lessons that run USD$100.00 per hour. www.cocopuertorico.com/
One of the ultimate husband-wife golf vacation destinations - The St. Regis Bahia Beach Resort 

The St. Regis Bahia Beach Resort is the only 5 – Diamond resort in Puerto Rico, Bahia Golf Club is a manicured course on the coconut palm-graced shoreline of the resort.
Within a Gold Audubon International Signature Bird Sanctuary, the course is catnip for nature lovers and certified as a Silver Signature Sanctuary. 
A grand gated reserve with unspoiled beaches, nature trails, lakes and views of the El Yunque Rainforest to the south, Golf Club includes a pool, Remede Spa and the Robert Trent Jones Jr. 18-hole par- 71 course. 
Zigzagging around saltwater lagoons, Hole 18, known as the "Bahia ", is a conversation-starter with ridiculously gorgeous vistas of the ocean and the rain forest.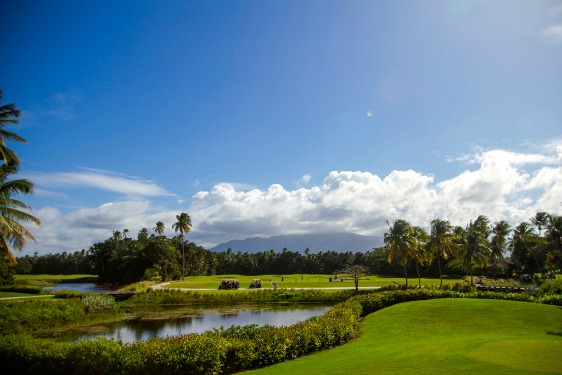 With a Gold Audubon International Signature Bird Sanctuary, Bahia Beach Resort & Golf Club is certified as a Silver Signature Sanctuary. Credit: Bahia Beach Resort & Golf Club
Challenging even to experienced players, water on both sides and strategic bunkers keep the game lively. 
Worth the splurge, Golf Club is home to the island's top golf shop with a vast variety of golf apparel, spa accessories and gifts for those you left at home.
Private lessons are offered for US$120.00, per hour or a package of 5 hours for USD $480.00.
Part of the El Conquistador Resort is at the intersection of the Caribbean Sea and Atlantic Ocean
The El Conquistador Golf Club impresses with an 18-hole course.
A par- 72 Arthur Hills design that opened in 1993, the resort and the 6,746-yard course sit pretty on a peninsula northeast of Fajardo; 45 minutes from the capital city of San Juan. 
Dotted with coconut palms and jaw dropping vistas of the ocean and the rain forest, the course is open every day from 6:30 a.m. to 6:00 p.m. and aims to please with 13 manicured elevated tee boxes and 59 sand bunkers.
Upping the ante, the SkyGolf GPS makes playing the course a lot more easier to choosing the right club, while for fans of posting Instagram photos; a bevy of wildlife from iguanas and turtles to colorful birds and mongooses make appearances on the course.
Lessons are offered by PGA instructors and the Golf Pro Shop stocks apparel, clubs and shoes available for rent. 
There is a chipping area is ideal for working on your short game and 7 putting greens to get an idea of how the exceptional greens will roll.
All-inclusive packages at the resort include stays in the luxe guest rooms, meals and drinks in a variety of restaurants and bars, complimentary entrance to Coqui Water Park, discounts at the Waldorf Astoria Spa and gratis access to the Spa Niwa. 
Nightly rates start at USD$269.00, per person.  www.elconresort.com
As you can see any husband-wife golf vacation to Puerto has everything you are both going to need, great golf courses, first class accommodations and the chance to explore this magical island together.