Why Most Resorts in Bahamas Fail 
And 3 Reasons You might Consider Staying at the Ocean Club
Yes there are many resorts in Bahamas to choose from. Let me tell you about one of them. On a trip to Paradise Island, I got the opportunity to stay at the luxurious The Four Seasons Ocean Club Bahamas. 
This is a chic and laid back resort.
It is one of the top spots on Paradise Islands in the Bahamas run by Four Seasons. 
This is an exceptional property, with easy access to a stunning  beach, very attentive staff and a great signature restaurant "The Dune". 
To me it was a  quiet place,  which if I had a only one complaint it would be the continuous noise from the goofs  on jet skis and banana boats.
But that is really nit picking,  because it really is not the resort's fault.
That is because the beach is located on a long stretch it is shared with a number of other hotels, but there is plenty of privacy. 
So if you are looking for a relaxing spot in Bahamas here are my 3 reasons to consider the Ocean Club.
This spot is a  great place to completely get away unwind, recharge in complete comfort.  
And you really get that feeling as soon as you check in you are greeted with a cold towel and beverage. you will see that 
It is not hard to get to go play the Ocean Club golf course plan it out easily with the concierge.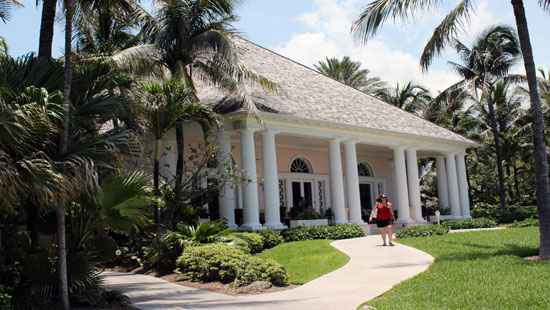 Checked in and heading to the room.
This spot is a great place to completely get away unwind, recharge in complete comfort. 
And you really get the feeling as soon as you check in.
The property is impeccably maintained, one thing you absolutely must do is visit the gardens.
1. The Best Resorts in Bahamas always have Attentive Staff
As with any of the high end properties in the Bahamas customer service is really important.
Such is also the case at the Ocean Club, the concierge team was always very helpful.
Very friendly staff. The service is not always prompt but remember you're on vacation looking at a beautiful ocean so what's there to complain about?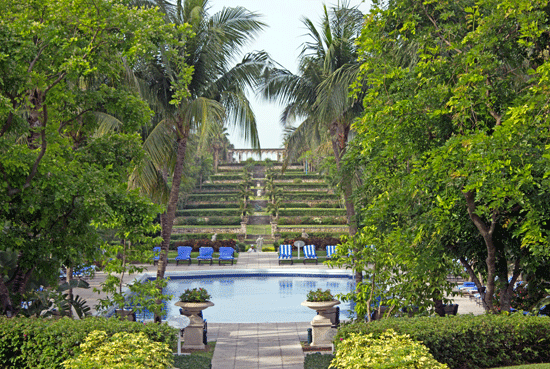 The Versailles Gardens & shimmering pool.
2. Beautiful Rooms
Our room was located ocean side, so we had an amazing view.
Also there was a patio attached where we spent a lot of time listening to the sounds of the ocean and feeling the sweet ocean breezes.
The only difficult choice we had to make was to either lie in the hammocks just out front or go lay on the beach.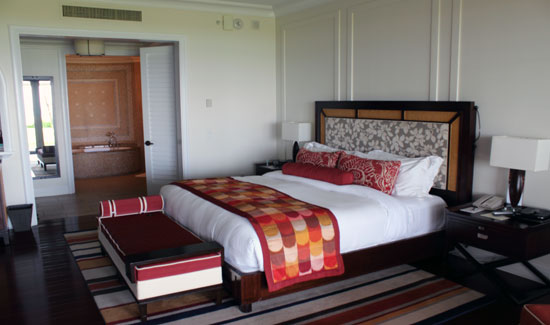 3. Best resorts in Bahamas are always close the action!
You will notice when doing research for vacation spots in the Bahamas, they all have their own special activities and entertainment.
Close to the Ocean Club is the Atlantis Paradise Island.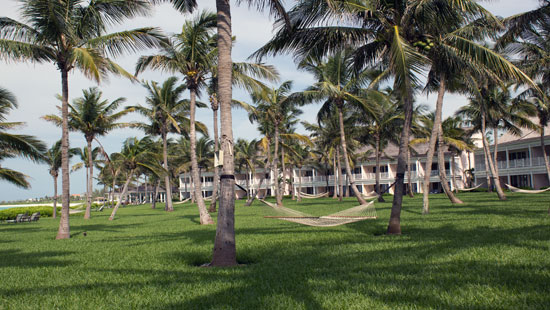 Hammock or the beach?
There is always so much going on over there.
Feeling lucky?
Go to the casino, hang out at the night club and of course there are more great restaurants to choose from.
However after visiting the Atlantis it made us appreciate the Ocean Club even more and that's because it is so quiet there.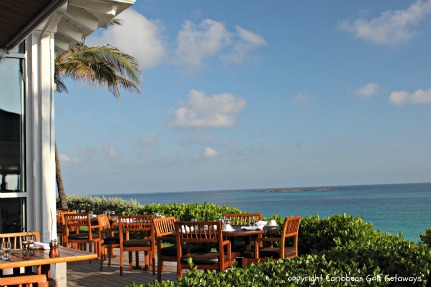 World-class fine dining is available at the Dune.
So if you are looking to play a great golf at one of top courses in the Bahamas and relax at a first class location you should seriously consider the Ocean Club.
I am sure you will not be disappointed.