3 Sexy Romantic Restaurants in Barbados

You may or may not have known but  the restaurants in Barbados are famous for the spectacular food. It is the only Zagat rated island in the Caribbean.
To be Zagat rated means that if you are serious about getting top online restaurant views, this is one of the most trusted review sites on the Internet
If you are vacation in Barbados not with your golf buddies and want to step up your game in the romance department, here are a few romantic spots for you and your special person to dine out at. 
Now these 3 romantic restaurants in Barbados I have highlighted are by no means the only great spots. In fact, I know I will be adding to this list.
My criteria for choosing these restaurants are based on 2  factors. 
Atmosphere - many of the great spots to eat at in Barbados over look the ocean, nothing beats the sounds of waves breaking onto the shore under stars. Also everyone at these restaurants are dressed fashionable and sexy. And it is definitely not the men. 
My second criteria has to be the food. And not just any food, the best restaurants in Barbados offer some of the most mouth watering dishes around. These 3 spots not unlike the rest of the other fine restaurants offer a wide range of food choices. 
You can indulge in some of the finest Italian  or French food.
There are other restaurants that blend familiar American flavors  with exotic Caribbean cuisine, while others experiment with Caribbean-Asian fusions.
And of course there are restaurants in Barbados who are true to their domain, specializing in authentic Caribbean cuisine.
Some Favorite Restaurants in Barbados
Daphne's
Located on the West Coast of the island, this Italian  restaurant is a place to you want to book as it has an elegant waterfront setting.
I suggest you arrive earlier and start the evening off at happy hour.
The bar is an upscale comfortable living room and you have to try one of the martinis they are spectacular.
Oh and expect the typical authentic Bajan hospitality as the staff really make it a special experience.
Daphnes is known for modern Italian classics and sumptuous island seafood so expect to see fresh fish and lobster on the menu.
Hours & Contact 
Bar 5:00 p.m. 
Happy Hour 5:00 to 7:00 pm 
Dinner 6:30 p.m. to 10:00 p.m. 
For bookings, please call (246)432-2731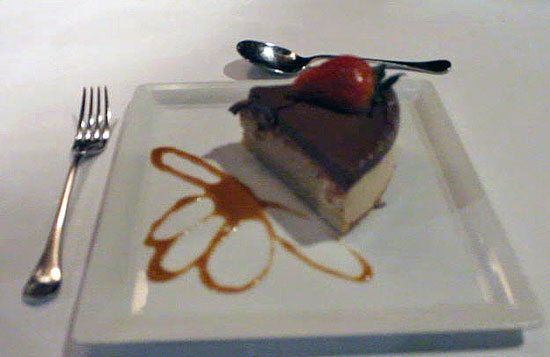 Daphne's decadent Peanut Butter Cheesecake with Salted Caramel
---
Champers
One of the leading restaurants on the South Coast of Barbados with a solid reputation for consistently good food and value for your money. 
You will find Champers nestled in a quiet lane just off the main South Coast road, with a beautiful cliff top setting that overlooks Accra Beach it has a super panoramic view over the ocean. 
The atmosphere is warm and friendly from the time you enter the door until you leave. 
The food is great, from grilled meats, pasta and of course local fresh seafood I will admit it was difficult to choose a main course.  
Get a table outside and listen to the water hitting the rocks.
The wine list is long so you are bound to find the right grape to compliment your food. If you are not sure just ask. 
I strongly suggest you make reservations and ask for a waterfront table. It is quite something to eat an amazing meal over looking the ocean and having the waves break below your feet to me, it really does make the food taste better. 
Hours & Contact 

Open for lunch and dinner:
Lunch: Every day from 11:30 a.m. – 3:00 p.m. 
Closed Saturdays 
Dinner: Every night from 5:45 p.m. - 9:30 p.m. 
Champers Restaurant & Wine Bar
Skeetes Hill, Christ Church
Email: champers@champersinc.com
Phone: (246) 434-3463 or 435-6644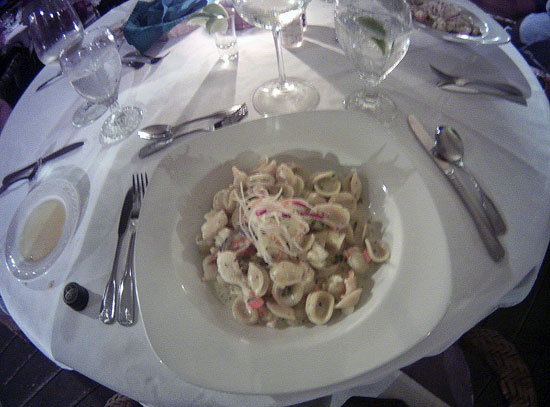 Champers mouth-watering pasta
---
Harlequin 
This is a place  where you will find good food and good service under the stars.
The only difference from the two other restaurants is it not a water front spot. 
It's located  in one of hot spots on the island, the St. Lawrence Gap.
The gap has everything you will want from a romantic evening. 
Great restaurants and hot nightclubs. Dinner and dancing what more could you ask for on a hot Caribbean night? 
What I loved about Harlequin is that there is  a very relaxed, comfortable feel. 
The owner/manager makes of point of visiting tables and gives the impression they care. 
There is a  wide variety of food choices that comes  served on colorful plates. 
Everything is made fresh and is simply mouth watering. 
Fresh seafood, perfectly prepared steaks or moist plump chicken, the menu offers a wide range of choices. 
To get one of those great outdoor tables you better book  a reservation so you won't be disappointed.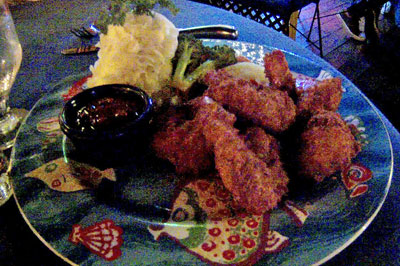 Delicious full of flavour coconut shrimp
Hours & Contact 

Harlequin Restaurant
St. Lawrence Gap
Christ Church, Barbados 
(246) 420 -7677 
harlequinbarbados@gmail.com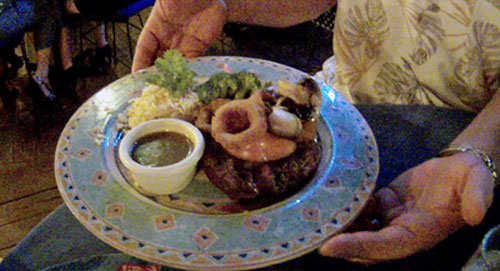 Harlequin's Tender and Juicy Steaks
One thing's for sure… 
If you want to really want to make your night  at any of these restaurants in Barbados really special and romantic for your special person, you can not go wrong by booking a table you won't be disappointed.