One of the best stay and play packages is at Casa de Campo
Stay and play packages for golf are common in the Dominican Republic.
In 2019 I celebrated my 60th birthday here with a few of my favorite golf buddies.
It was a special time and we had a blast. 
If you are looking for something unique and fun for your next golf buddy trip or golf gal's getaway, Casa de Campo la Romana Dominican Republic has everything you need for an amazing Caribbean golf escape for you and your friends.  
This upscale golf paradise was the first Dominican Republic resort in the area 50 years ago and is still a favorite luxury destination well known to celebrities as well as discerning travelers.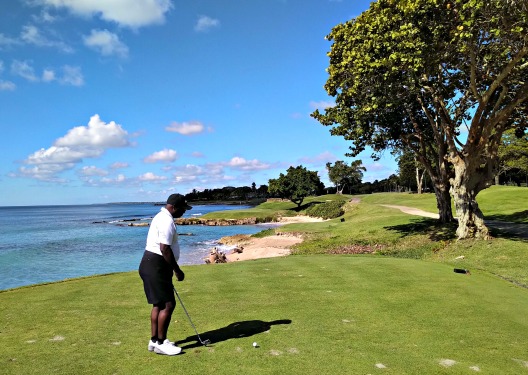 The best place to spend your birthday! Playing with your best golf buddies
The gated community offers guests an exclusive setting in the Dominican Republic with unmatched amenities and outstanding service.
Any time of the year is great for a trip to the Dominican Republic, as the temperate climate makes it a pleasant experience no matter what season!
The Stay and Play Packages includes 3 world-class Golf Courses
You know you are at a first-class golf resort when each villa comes with a personal golf cart!
The Casa de Campo in La Romana has the reputation of being the best golf resort in the area, with one course being voted as the #1 golf course in the Caribbean. Casa de Campo is truly a golf lover's paradise.
Guests have their choice of a variety of stay and play packages including unlimited golf starting at just $249, as well as group rates and packages.
Both of these offer great savings at an amazing resort in paradise.
There are three 3 Pete Dye golf courses to choose from including the #1 ranked Teeth of the Dog, Dye Fore, and The Links. Each offers a distinctly different golf experience:
Teeth of the Dog
#1 in the Caribbean, #27 in the World
Seven dramatic holes along the rocky shores of the Caribbean Sea

Dye Fore

27-Hole course
Three distinct nines:
             - Chavon offers hilltop holes
             - Marina offers harbor views near town
             - Lakes offers sculpted rolling terrain
The Links
Most playable of the Dye courses
Hilly terrain with grass framed bunkers
Challenging greens and putting surfaces
Exciting Adventures Await During Your Golf Buddy Trip or Golf Gals Getaway to the Dominican Republic
In between games of golf, guests can enjoy world-class activities including a visit to the onsite marina where you can rent a private boat, an afternoon at the Equestrian Center for horseback riding or a polo game, and a relaxing day on the pristine sandy beaches sipping cocktails in the sun in La Romana Dominican Republic
Luxury Accommodations Await at Casa de Campo
Accommodations just don't get any better than at the Casa de Campo.
Guests can choose from a variety of luxury options including elegant, modern rooms with urban amenities like walk-in closets and espresso machines.
The real stunner though, are the private oceanfront villa homes that offer a service staff and feature a private pool, lavish furnishings, and even a dedicated concierge at your service.
Insider Tip: Each villa comes with a private golf cart, and there is no better way to get around the resort to all of the amenities!
Dinner and Drinks at the Casa de Campo La Romana Dominican Republic
Dining options are sure to impress during your golf gal's getaway or golf buddy trip, as there are seven (7) delicious onsite restaurants to choose from.
Guests have their choice of culinary experiences.
From classic Italian dishes and fresh seafood to Spanish tapas, creative sushi dishes, and even a food truck - there is truly something for everyone.
Guests can also enjoy room service delivery as well as private chef services.
The resort also offers a variety of themed bars and lounges for a fun day at the beach or evening out.
From swim-up pool bars and dance clubs to beach bars, outstanding 19th holes and tennis lounges, there is a place to grab your favorite cocktail or beer to suit your every mood.
Casa de Campo is worthy to make our list of best stay and play packages for 2020
The Black Iguana Golf Club