3 Reasons Why You'll
Love Barbados Restaurants
 What I love about Barbados restaurants in my opinion the island is  a must visit destination  for foodies and those who just love a good meal. 
I can honestly say I have never had a bad meal.
One of my favorite ways to sample local Barbados food actually does not  happen in a standard bricks and mortar food establishment.
I strongly suggest you  try  freshly grilled fish on a Friday night at Oistins fish market this  is a meeting place for local and visitors.
And that is what is so great about the range of options you are going to find is that you are not going to know which one to choose.
If you are looking for  fine dining  all Barbados restaurants have something you will surely enjoy. 
I have found that the high end ($$$$) eateries aren't always better than the restaurants that serve simple good food ($), you just have to do a little research.
So here are my 3 reasons why you should explore all that Barbados has to offer.
Click and see my favorite thing to do on a Friday night in Barbados
First the quality of restaurants to me it is some of the best in the world. In fact, Barbados is the only island in the Caribbean with a Zagat rating.
What does this mean?
The Zagat rating has been around since 1979 and it is a trusted online review site.
Stats reveal that one out of every 10 people looking for the restaurant reviews online  of where to eat use its rating as a guideline.One thing's for sure...
All of it is going to be  mouth watering.
Second  There is a huge  range of options to choose from whether you want to eat like a "Bajan" which would  flying fish and cou-cou (which is corn meal and okra) all the way to sumptuous sushi.
Perhaps you crave a thick juicy steak or fresh home made pasta. You can easily find the Barbados restaurant to satisfy your taste buds.
Delicious flying fish and all the fixings at Harlequin Restaurant in St. Lawrence Gap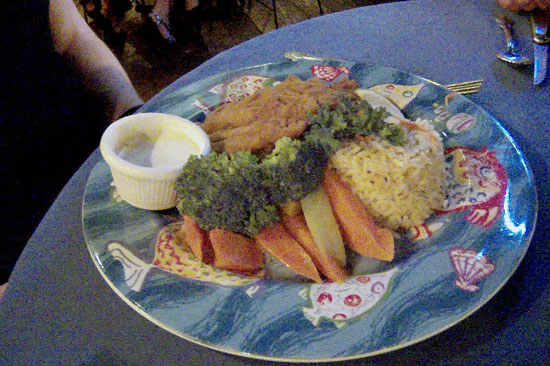 Third  the location settings and the  views of the islands at many of the restaurants over the look the ocean.
So as the sun goes down with the right bottle of wine and company your dining experience will only be more satisfying.
A popular spot with great ocean views and of course great food to me was at Champers.
The fact is if you love to eat and want to do it well then I can guarantee you will find a restaurant  in Barbados to your liking and budget.
Now that you have begun to learn about Barbados Restaurants and what they have to offer, here is more about making the best of your time in Barbados.
There is more about golfing in the Caribbean here!