Corales Golf Course is in the Dominican Republic known for some of the best courses in the Caribbean.
This is just another one of its stars is which is on the east coast of Punta Cana. 
It opened in April 2010.
I can see why it is constantly ranked as one of the top courses not only in the Caribbean but in the world.
It was built by Tom Fazio, in fact it is the only ocean side course he has built.
I spent a morning while in Punta Cana at this fabulous
course getting the ins and outs from head golf
professional Jay Overton. Jay played on the PGA and
Champions Tour. He is not shy to say that he believes that
Corales Golf Course is one of the best golf courses on the planet.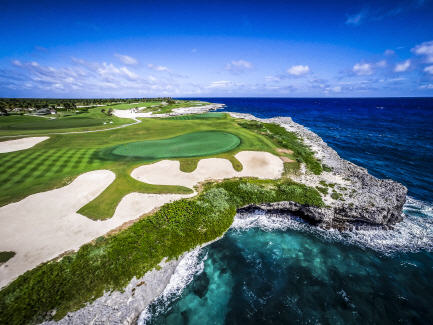 The Mother of All Holes #18 at Corales
The owners gave Tom Fazio over 350 acres to work his magic to build the course, it is 230 acres of grass which would be unheard of if it was to be built in Canada or the U.S.

The landscaping is just breathtaking.
Corales is probably one of the most scenic golf courses you will ever play the fairways roll almost as good as the greens.